Welcome!
Welcome to our most current promotional products, promotional items and corporate apparel online catalog. We work with top manufactures all over and we can't put every product on the site. If you don't see what you need or have a specific theme or request, call us – our creative, knowledgeable staff is always ready to take on new projects!



Featured Item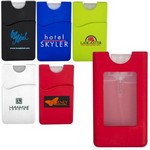 Silicone Wallet Sleeve w/Sanitizer - 0.6...
PP Plastic credit card-sized 0.67 oz. (20 Ml) antibacterial hand sanitizer spray in removable silicone sleeve with pocket for credit cards, transit cards and business cards. Features light citrus scen...
$2.35 - $2.99
What Our Customers Are Saying

We've worked with Ward Promotional for the last 2 years and have been extremely happy with the level of service and quality of products that they have provided. We definitely think of Ward above all o...
Sara
The Visionary Group
Jan 17, 2017